IBIS Electrographik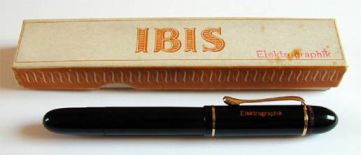 Pelikan belongs to the manufacturers who in the past have tended not to produces fountain pens outside of their main product line. Up until the late sixties, the assortment was limited to a small number of models that were offered alongside of each other. Thus only a few pens with private label are known, for example, pens which were produced for important office article manufacturers (Taylorix, Ruf - see article "Many Brand Names - One Manufacturer"). Even among the most passionate Pelikan fountain pen collectors it is little known that during the fifties Pelikan carried pens in its assortment for electrographic use. These were standard pens of the series 140 or IBIS 130 that carried the imprint "Elektrographik" along the barrel. Also the imprint "für Zeichenlochen" can be found. In the sales folders these pens were given their own type designation: IBIS 130E and Pelikan 140 E. The IBIS was offered in Swiss sales folder dated 1956 - at this point in time the IBIS was not longer available on the German market and had been replaced by the model 140. According to our present knowledge, the model 140 E was offered only in the German list No. 90 in 1955. Both pens were equipped with a very hard nib (marking "D" - the IBIS with a steel nib and the model 140 optionally with a gold nib.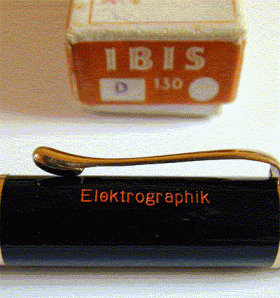 Particularly noticeable is the fact that the cap imprint on the IBIS 130 E was made in a strong red colour which was the style before the war and normally no longer in use.
Of course, today the interesting question is, what was the purpose behind these pens? Of course, today the interesting question is, what was the purpose behind these pens?
They were categorised as pens for mark sensing process. This practice belongs to the origins of data processing. Electrographic ink was a special ink containing graphite intended for the marking of punch cards. The very high graphite content of the ink enabled the markings to conduct electricity. By way of contact brushes, the cards were recorded and processed. Figuratively speaking this was a handwritten compilation of a computer programme.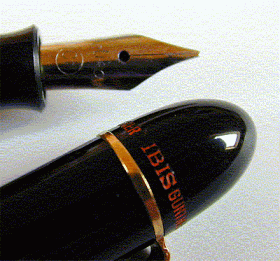 Because of the special character of the ink it was important not to use other inks in the pens and this is why the imprint "Elektrographik" was practical and important.
Martin Lehmann