Classifying Overlays

Safety fountain pens with Overlays are some of the most searched for items amongst collectors of historic writing instruments. An overlay is described as a metal coating over the cap and / or the shaft of a writing instrument. This coating usually consisted of either silver, normal gold or rolled gold. During their time of release, these pens were viewed on as luxurious variants of the originals.
The overlays can be classified in the four following groups, which are listed in the order of preference:
Original overlays clearly marked with the producers imprint
Ordered overlays where it can be proved, that the overlay was carried out on demand of the pen producer
Overlays that were produced for an importing company to be sold in the home market
Jewellers overlays that were ordered by the pens owner to be carried out by a jeweller.
The most sought after overlays are those that can be found in old catalogues which carry the producers name clearly engraved in the pen. Such examples can be found in past assortments of almost all fountain pen producers.


Most of the older Montblanc safety fountain pens were available with overlays that were handcrafted by the silver smith Sarastro in Pforzheim (noticeable by the engraved "S"). To collectors these are popular pen variations with great recognition.
Since the demand for overlays in Italy was higher than anywhere else, many local jewellers specialised in crafting overlays for Montblanc, Watermann, and Kaweco fountain pens. Many of these fountain pens were then sold on under the original producers brand. Due to this, one can find either Kaweco's with the overlay imprint "Fabricato Kaweco" or the Italian version with "18K.R." this does not mean that the used material was solid 18 carat gold, but rolled gold.

Judging on the average amount of such pens that are found, it becomes quite clear that it was very typical in past times to have ones fountain pen transformed into a luxurious item by an entrusted jeweller. It can be stated, that at least 30 to 50 percent of the pens with overlays found nowadays are the result of jewellers handcraft found in different qualities. Although many of these pens were handcrafted to esthetical perfection, they are valued far lower in comparison to the original overlays carried out by the pen manufacturers.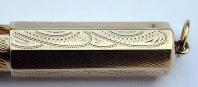 Martin Lehmann