The Rappen-Fountain pen

After a technically advanced Pelikan Fountain pen was introduced in 1929, many were surprised that a mere two years later a pen with the more traditional pump mechanism - surly a step backwards instead of forwards compared to the previous Pelikan Fountain pen - saw its release. If one takes a careful look at the Pelikan assortment in its entirety, it does actually make sense.
Many Product groups from Guenther Wagner's company were separated into two lines in order to reach the largest possible number of consumers:
1. Premium Products of the highest quality that carried the "Pelikan" name (like the Pelikan Fountain pen)
2. A second level of quality that was less costly but still promised good workmanship. These products usually carried the name "Rappen"
This separation took place on Product lines such as typewriter bands, carbon copy paper and Fountain pens.
One of the main reasons for the Guenther Wagner company to produce a Fountain pen with a simple pump system was the fact that this type of pen was still quite common, had low production costs and was a clear departure from the flagship "Pelikan" writing instruments.

An extra long shaft covered a short tube on the end of the transparent ink container in the Rappen Fountain pen. By pushing the pen together air was pumped from the pens innards. When then released, the tube sucked in air making it possible for ink to be sucked in to the ink container of the pen.
Confusion was caused amongst collectors by the different inscriptions that could be found on the pens nibs. Collectors would only view a nib as "an original" if it had an inscription that read "Rappen" in one form or the other. Research through the old advertisement brochures prove this to be a false claim. It must be remembered, that especially in the first years of production the nib inscriptions were simply to show no indication of it being a Product of Guenther Wagner.

Nib inscriptions from the original nibs that a Rappen was fitted with between 1932-1934.

It wasn't until 1934 that the Rappen inscription could be found on a nib. The inscription was modified in 1939.
This imprint is very similar to the one later to be used on Fountain pen models 100N.
The production of the Rappen Fountain pen was stopped for the German market in 1936 and replaced by the piston Fountain pen IBIS. Due to its popularity, the name remained the same on foreign markets due to popularity - even for some of the piston Fountain pens now known as IBIS on the German market.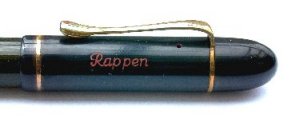 Besides different nib inscriptions, there is another special feature about Rappen that is well known by collectors: The caps "Rappen" imprint did not always have a horse on it (most probably during the earlier stages of production),but sometimes carried just the Rappen name like other products of lesser quality from Guenther Wagner.
Martin Lehmann