The Original Pelikan

The Pelikan Fountain Pen (The »Original Pelikan«)
At a time when the market for fountain pens seemed to be divided up among a few large and a number of smaller manufacturers, Pelikan's Günther Wagner began to build up his own fountain pen production line. To justify taking a risk like this, the new writing implement had to be clearly different from the models of the competitors so that it would not be lost in the crowd.
The Hungarian engineer Theodor Kovacs had developed a pen which was supposed to solve all of the technical problems of the other models:
self-filling with an ink window
clip attached in mass-production
a way of replacing the cap without damaging the nib
ink does not escape even if the plunger's cork seal is defective.
This pen appeared on the market in 1929 under the name of the »Pelikan Fountain Pen«.
Since over the years many defective components have been replaced in many fountain pens, there are always pens turning up these days which are not completely original. Therefore, the following list provides a survey of the features of the first Pelikan fountain pen:
Cap

material: hard rubber
a cylindrical cap head (see sketch)
no cap rings
the sealing surface on the cap head is even
two air holes opposite one another

Shaft

material: bakelite (reddish see-through)
single-piece combined cone and barrel
the band was jade green, later also black

Mechanism

combed cone with an arrow showing direction of rotation
spindle with large inclination
guiding pin for the piston rod which is inserted, not pressed
cork seal

Nib

Pelikan gold nib with a heart-shaped hole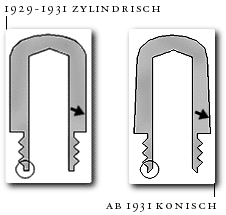 Sketch of the cap head


In 1929, the cap head is cylindrical and the cap head's sealing surface to the cone of the pen is even (see the circle). From 1931 on, the cap head is produced conically and the sealing head inclined.
Martin Lehmann